Prabodhini Vidyamandir
It was the first school established by Late Rajanitai Limaye.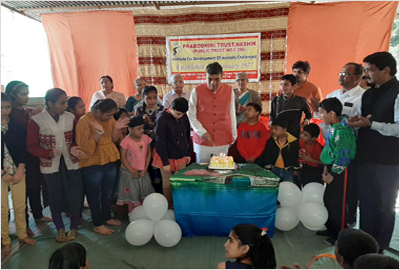 Functioning
It is a well facilitated two storeyed building & 160 students between the age group of 3 to 18 years attend the school. Group of 10 to 12 students are formed after their Intelligence Quotient (I.Q) is tested. Each group has one trained teacher and one attendant. The school has 15 trained skilled teachers as well as 8 Art teachers.
The primary groups are taught self reliance skills which make them independent. The secondary groups can write, read, and learn mathematics. This is to help them to cope up with their daily life.
Students ready to take up any work are trained to make paper bags, lanterns, rakhis, house-hold articles, colouring lamps and other craft articles along with studies. This helps them to increase their ability to work and keeps them busy, it also helps to solve behavioural problems of adolescents.
Besides activities like picnic, workshops, dance, drama, and annual social gatherings are arranged to keep the children happy. To make our students aware and teach them importance of festivals, we celebrate all festivals with great enthusiasm. The school authorities, teachers and staff take continuous efforts to bring about an all-round development of the children through various activities and mediums like drawing, craft, stitching etc.
The school receives a grant for 130 students. The expenses for the remaining are borne by the trust. Depending on the I.Q level, students are identified to be of acute, average and mild retardation. Accordingly, they are identified into groups of primary, secondary, apprentice for their independence. A special recognized curriculum of F.A.C.P (भारतीयपुनर्वासपरिषद) is executed and examinations are conducted accordingly.
Regular medical check-ups twice a year are carried out by specialized doctors.
Each section in the school has pure drinking water and children are given nutritious food during recess. The school has a large play ground and beautiful garden.
We as an organisation achieved many words of appreciation for our noble work by our students winning in various state level drama competitions for two years (Maharashtra balnatya )Marathi dramas in which two of our students won bronze medals as well as five thousand rupees along with certificate for acting skills.
We need support from sensitive people to donate our institution to carry out this herculean task.
Prabodhini Vidyamandir
Lane no-2,
Old Pandit Colony,
Sharanpur Road,
Nashik-422002.
Phone No – +91-0253-2579716